Horizon Research is introducing a new cloud-based Real Time Offer Modelling and Sales System (ROSS) to help retailers and others reach 57% of consumers who want to say what they want - and then buy it.
Horizon believes the new technology could deliver significant new sales by offering customer loyalty scheme members exactly what they want to buy.
The new technology allows clients to quickly model best offers based on customers' preferences about the offer type, price and time they want to buy. The modelling projects maximum gross profit and sales volumes for offers. Offers can then be sent directly to willing buyers.
ROSS delivers this service.
The unique offering is based on more than 11 years of robust online research platform development and proof of concept investment - through a special 12,000-member New Zealand adult consumer panel.
ROSS allows you to:
know more about your customers and personally offer them what they want, when they want it - and on the most profitable basis.
For customers the promise is: Say what you want, get what you want.
For your business the promise is: Know what they want, when they want it, instantly determine what offers will work best - and increase sales and profits.
At the same time ROSS enhances customer experiences, loyalty and life time values. It also delivers you and your suppliers a wealth of research and market intelligence.
THE SIZE OF YOUR OPPORTUNITY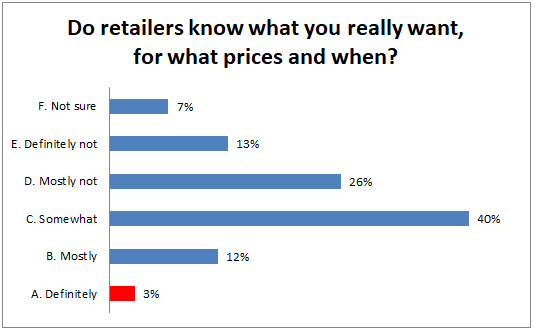 Our research indicates that 32%
feel that retailers and loyalty programmes
don't know what they really want, for what prices and when
, yet
57% of customers on your database will tell you exactly what they want - and the best offers to make to them: enhancing sales, profits and loyalty.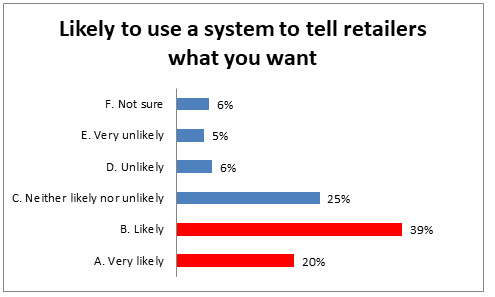 A report on this research, involving interviews of 2,199 adult consumers, is available to those meeting with us to explore applying ROSS within their businesses.
This report details membership of major loyalty and retail schemes, customer satisfaction with each one, channels through which they are receiving offers, channels they would prefer, channels they are buying through and which would result in highest sales; types of offers (like cash, percentage discounts, free gifts) most preferred and which are working best - for which loyalty programme.
This report, with results tracking for market share, loyalty scheme membership and performance ratings for August 2016, January 2017 and August 2017, is also available for purchase.
SEAMLESS ADDITIONAL ADD ON SERVICE FOR GREATER SALES
ROSS does not replace your current loyalty programme software and programmes.
It runs alongside, with seamless branding, to survey your customers and determine what they want, model best offers - and deliver them.
THE BENEFITS
ROSS offers a unique opportunity to further:
Unlock additional value from customer databases

Discover what customers want and when

Increase sales by making customers the most appealing offers when they want them

Invigorate customer loyalty programmes

Align strategy, spending and messages

Prioritise objectives and spending

Direct spending and effort towards moments of maximum influence

Inform stock selection and sales offerings

Deepen understanding of the customer's pre and post transaction experience

Improve loyalty – and reduce the opportunities for competitive brands to disrupt your customer's buying journey

Drive word of mouth – member get member – database growth

Distinguish active from passively loyal customer

More effectively use resources to provide customers with information, support and the experience they want to reach purchasing decisions, rather than push products on them

Interact effectively with customers to increase sales and individual customer value.
A simple dynamic tool to let customers tell you what is best for them.
EXPLORE HOW ROSS MIGHT GREATLY BOOST YOUR BUSINESS
To explore how ROSS may enhance your sales please contact:
Graeme Colman, Principal, Horizon Research and AudienceAdvantage: Telephone +64 21 848576. E-mail gcolman@horizonresearch.co.nz
Grant McInman, Manager, Horizon Research, CEO AudienceAdvantage: Telephone +64 21 07462040. E-mail gmcinman@horizonresearch.co.nz