The number of people nationwide saying they will "definitely" buy or sell a residential property in the next 12 months has decreased.
Horizon Research has been tracking definite buying and selling intentions for Property Press since 2010 to provide an accurate indication of demand and supply pressures.
The February 2017 national dwelling buying intention decreased markedly since the previous June 2016 survey. Although the gap between definite buyers and definite sellers has decreased since June 2016, it remains significant.
5.6% of respondents said they were definitely looking to buy in the next twelve months compared to 8.4% in June 2016.
Definitely sell, at 2.5%, was the lowest measured since the start of the survey series in October 2010, and continues a general downward trend evident since September 2012.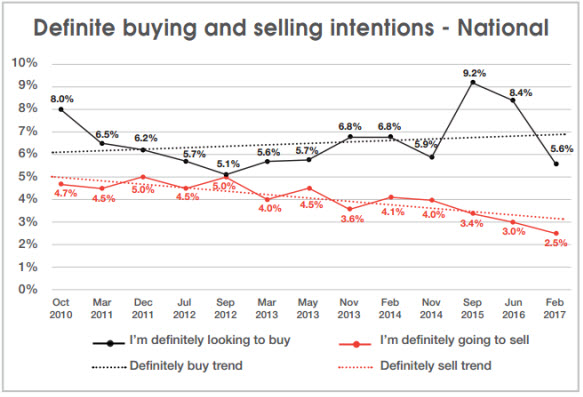 Supply is only 45% of demand (assuming one property is offered for sale for each respondent who is "definitely going to sell" and each "definite" buyer represents one individual property).
The national demand estimate for the next 12 months is 88,000 dwellings - down from 131,900 in June 2016. With the continuing decline in supply this results indicate a national nett shortage – the gap between numbers of definite buyers and numbers of definite sellers - of around 48,700 dwellings to meet demand.
The shortage is down from the 84,800 reported in June 2016.
The supply and demand projections for Auckland, Wellington and Christchurch are:
AUCKLAND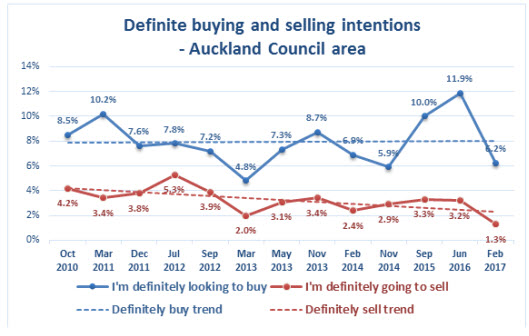 In Auckland there is an estimated undersupply of 23,200 dwellings – a 44% decrease on June 2016's 41,200 dwelling shortfall. This has resulted from a decrease in definite buying intention from 12% in June 2016 to 6% in February 2017. The definite selling intention in Auckland dropped from 3% in Jun 2016 to 1%, which may mean a shortage of properties being offered for sale later in the year.
The total Auckland gap represents 48% of the national undersupply.
WELLINGTON: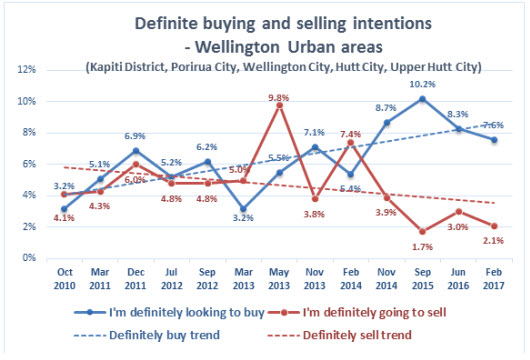 The Wellington Urban Areas continue to show an undersupply. There was a similar decline in both definite buying and definite selling intention, resulting in the supply gap remaining at 8,500 dwellings.
CHRISTCHURCH: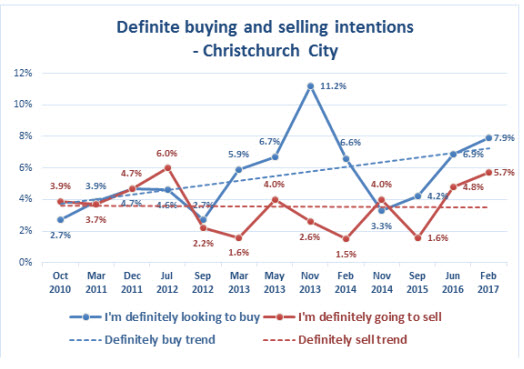 Both definite buying and definite selling intention increased by the same amount in Christchurch, resulting in the supply gap being maintained at 2,800 dwellings.
The market projections summary report word document can be downloaded here.
You're welcome to discuss these results and the issues they raise at our Facebook page.
*Source: Horizon Research Property Media Survey, February 2017. Sample 2,066 aged 18+. Maximum margin of error +/- 2.2%
For further information on Horizon's property market research capacity please contact
Grant McInman, Manager, Horizon Research
E-mail: gmcinman@horizonresearch.co.nz
Telephone: 64 21 076 2040