Consumers rate Fly Buys as the country's best loyalty scheme.
As it enters a major new battle among loyalty programmes, in which Countdown's Onecard and AA Smartfuel this week announced a new alliance, Fly Buys is rated best by 29% of New Zealanders.
It is followed by AA Smartfuel with 14%, according to a nationwide Horizon Research survey of 1,575 adult consumers in August 2016.
Jointly third at 9% are Air NZ Airpoints and Countdown's Onecard followed by Farmers Club with 5%.
Horizon found respondents on average each belonged to 3.1 reward or loyalty programmes, including customer schemes run by major retailers.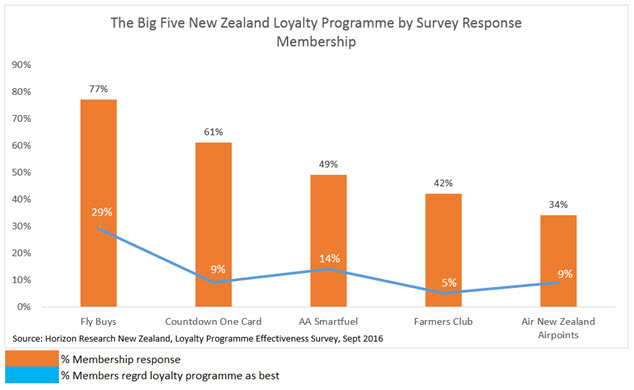 Horizon says it is clear that Onecard needed AA Smartfuel to make Onecard more effective, and that Farmers Club is rated lowest by its members. The chart below shows that 36% of Fly Buys members think Fly Buys is the best scheme, but so do 30% of Farmers Club members, 30% of Onecard members, 28% of Air New Zealand Airpoints members and 27% of AA Smartfuel members.
The members of Onecard, Farmers Club, Air New Zealand Airpoints and AA Smartfuel all rate Fly Buys as better than their scheme (only marginally, 27.4% v 26.9% in the case of Smartfuel).
However, also note that only 35% of Fly Buys members think Fly Buys is best. 16% of Fly Buys members think AA Smartfuel is best, 10% think Onecard is best, 9% think Air New Zealand Airpoints is best and 17% aren't sure which scheme is best.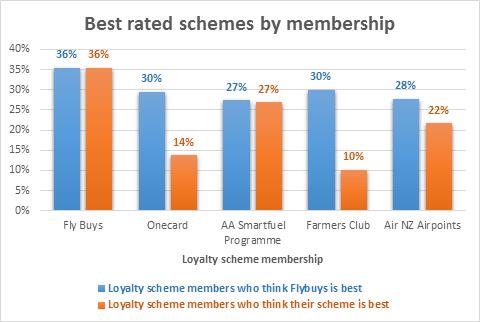 Horizon says results indicate huge potential for loyalty schemes to improve performance ratings among their members.
Interestingly the survey also found only 39% of members thought the retailers and loyalty programmes they used knew what they really wanted to buy, for what prices and when.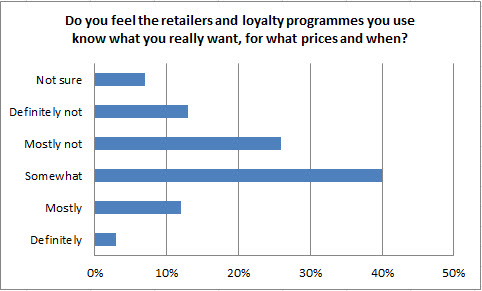 The Horizon survey represents the adult population at the last census and has a maximum margin of error overall of +/- 2.5%.
Horizon is launching new technology which allows companies to determine what their customers want, model the best offers - and send them in real time.
The technology is based on major proof of concept development in May-June this year involving a specially created panel of more than 12,000 consumers nationwide.
For further information please contact
Grant McInman, Manager, Horizon Research
E-mail: gmcinman@horizonresearch.co.nz
Telephone: +64 21 076 2040